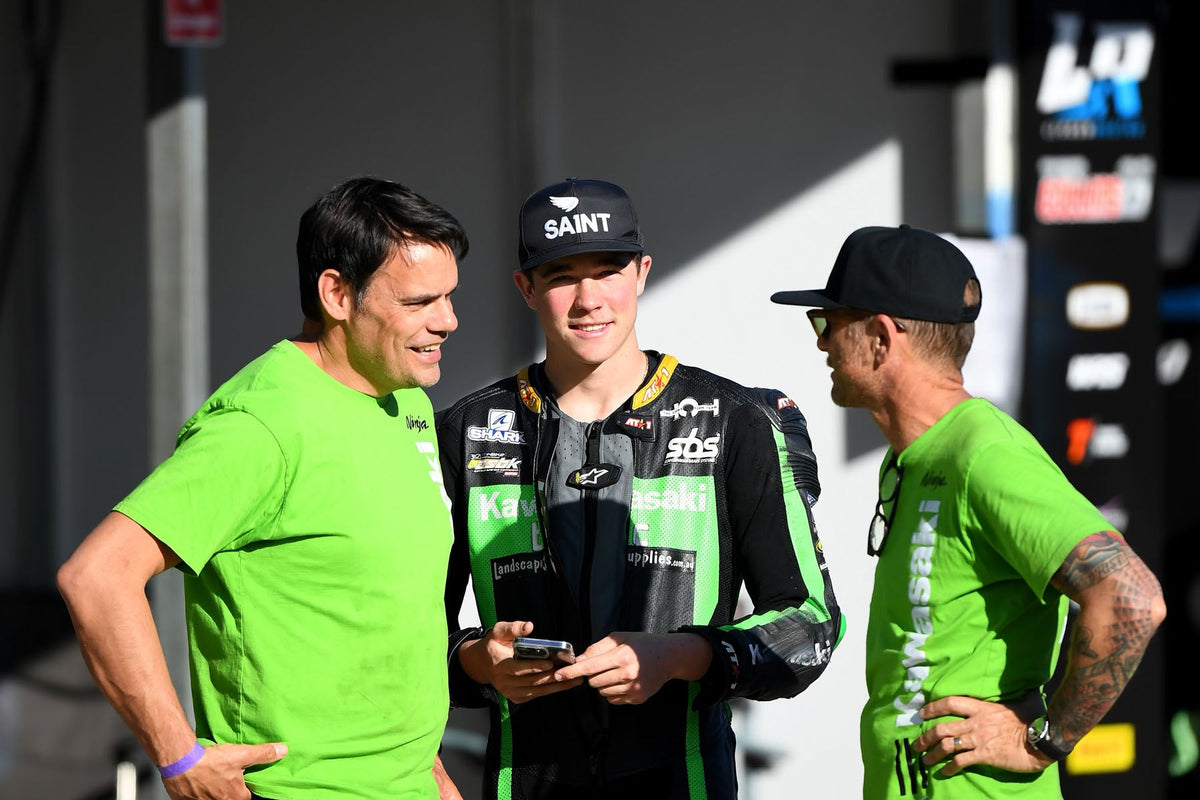 What Does It Take To Be An Australian Superbike Rider?
"…as a superbike rider you need to have overall body strength and fitness."
SA1NT: From the Tarmac, To The Treadmill
SA1NT exists in several very different customer segments, and at the book end of these are our offerings to motorcycle protection and high-functioning sports apparel. However, there are customers that embrace SA1NT in both spheres, looking to us for equipment on the bike, and support in the gym. We have these guys and girls covered from the tarmac to the treadmill.
One of our talented young Australian Superbike riders Paris Hardwick shared a glimpse into his superbike training routine for making sure his fitness supports the physical demands of ASBK races. Here's some of his preparation discipline…
Who Is Paris Hardwick? 
Hailing from NSW, Paris Hardwick started racing dirt track roughly at the age of seven, working his way up through the bigger capacity bikes and classes until he reached 16. From there, he made the transition to road racing and quickly found a passion for riding on the bitumen at track days onboard a 300cc machine, now he is an upcoming rider in the ASBK Australian Superbike Championship.
Paris's Superbike Training Routine:
1: REACTION TIME TRAINING
As a superbike racer quick reaction time is a must. On the racetrack, we need to make split-second decisions to make passes or avoid crashes. 'Bike time' is important, but to help improve my reaction time even more I do a few different exercises. 
One of my favourite activities is to use blaze pods. They can be laid out in any combination or position and be set to various time frames. The key is to hit the pods as quick as possible when they light up, each time trying to better your number count in the time frame set.
2: Bike Time
If I'm not riding superbikes, I like to always be riding some sort of motorbike each week if not every couple weeks. To stay bike fit and up to pace it's good to be getting quite a bit of bike time. It can be anything from motocross, super motard, dirt track as long as you're riding something it will benefit you.
3: Varied Training
I do many different types of training. The training I do most days is going to a gym called Fitstop there we do classes with a trainer to focus on strength and conditioning. Each session is a mix of different exercises focusing on the whole body but some days we focus on certain parts. I like  that it's a different focus each day, as a superbike rider you need to have overall body strength and fitness. I also do a lot of running and cycling to build up the cardio, this is one of the most important things to be able to keep focused towards the end of a race.
4: Eating Correctly
Eating is an important aspect of all my training. I like to keep it simple constantly eating clean healthy foods. I try to minimise overeating and with my calorie intake, roughly eat the same amount as I burn in a day while still getting a good amount of protein and nutrients.
5: Consistency
Consistency is key. The biggest improvement I've noticed with my superbike racing and training is just to be consistent. Training, eating, riding just keep it consistent day in and day out and improvements will happen.
 
View our latest compression collection